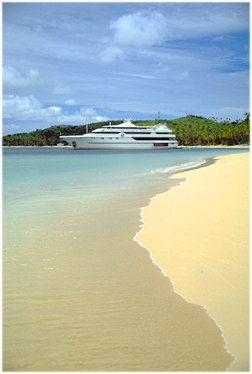 Comprising over 300 islands, Fiji offers unsurpassed opportunities for exploration in both scheduled cruises and make-your own-itinerary charters. there are world-renowned cruises to the famous Yasawa Islands - twice the setting for the movie, The Blue Lagoon. Cruises also operate to the Mamanuca Islands and various other equally spectacular destinations
The Joy of cruising the sparking emerald and azure water adjoining the Fiji Islands is just the pleasure of experiencing untrammelled beauty, but also the realisation of child dreams of faraway places.
It is Treasure Island revisited... the essence of Robert Louise Stevenson, Somerset Maugham, Pierre Loti, and James A Michener.
Fiji afloat has something for everyone. from affordable family and budget day trips, regular two, three and seven night cruises on well appointed luxury motor and sailing yachts.
Drift at leisure under white sails framed against blue... or skim across shimmering lagoons in one of the many open runabouts that ferry people, food and other goods from island...
Soak up the sybaritic pleasures of a Yasawa cruise ship or join the locals on a hard working inter-island trader, each offers an experience that is truly Fijian even if they are at opposite ends of the spectrum when it comes to creature comforts Experience the thrills that brought Zane Gery to the South Pacific and battle your wits against magnificent black marlin and other Fijian big games specialities
Or paddle from island to island in a sea Kayak and recreate the conditions that prevailed in the days before outboard motors, when "druas" (native canoes) were predominant.
See also: Day Cruising