Colo-I-Suva Forest Park
Colo-I-Suva Forest Park & Nature Walks
Colo-I-Suva Forest Park (pronounced Tholo-ee-Suva) was once a true tropical lowland rainforest, which has been interplanted with mahogany. It is in the upper drainage area of Waisila catchment, alongside Princes Road. The Department of Forestry manages the Forest Park.
Facilities
The visitor information centre located at the Forestry Station can give you useful information. The Forestry Station recommends that you start from there. You will find three pools developed as SWIMMING AREAS: the ever-popular Main Pool with its ROPE SWING and the two Upper Pools. All other pools remain in their natural state and many are shallow enough for a child.
While there are a few PICNIC TABLES near the Main Pool, most facilities have been built near the Upper Pools where it was possible to provide adequate parking. Both these areas have toilets. Groups of up to 40 can be accommodated at the Steep Hill Group Area.
All Picnic Tables have BURE SHELTERS. All have FIRE GRATES and a sufficient quantity of wood.
If you wish to stay overnight, CAMP AREAS have been cleared next to tables built along the trail to the Upper Pools.
A .5km NATURE TRAIL has been built. This one-way loop begins a short distance from the Upper Pool Parking Area and interprets many interesting facets of the natural environment. If you wish to stretch your legs, HIKE some of the over 6.5km of trails of the area.
Opportunities
For those of a more contemplative nature, the lookout is the ideal place to finish that book you've been meaning to read, write in your traveller's diary or simply relax…
Pick up a Student Guide at the Visitor Centre and learn more interesting plant life found in Fiji forests.
Observe the Fiji Goshawk glide majestically – a bird you only find in Fiji, or the Blue-Crested Broadbill, found only in the Viti Levu rainforest; or you may hear the deep hollow call of the Barking Pigeon – a bird widely hunted, but safe here. Pick up a Colo-I-Suva Bird Guide from the Visitor Centre at the Forestry Station.
Photographer's Note: On a cloudless day with the sun directly overhead, the amount of light along the trails is often only 3% that in open. You'll have better luck with a high-speed film.
Climate
The Forest Park is between 122 to 183m (400-600ft) above sea level and is therefore both cooler and slightly wetter than Suva. It gets about 424cm (167in) of rain a year with some falling on average of 4 days a week. November – March are the wet months, while May – August is considered the dry season.
The mean annual temperature is a comfortable 24 degrees Celsius (3 degrees Fahrenheit) between February and July, the warmest and coolest months.
Safety & Comfort Tips
The streams rise slowly but surely during very heavy rains. Do not attempt to cross the streams in their flooded stage.
Wear adequate shoes and be careful when using the rope swing and diving in the pools.
Valuables can be kept at your Hotel or at the Forestry office for safekeeping. You may collect them before 4.00pm
Regulations
Alcohol, weapons and cane knifes are forbidden
All pets should be kept under control of their owners
Fires should be built only inside the grates. If possible take rubbish back with you, but all discarded items should be placed in the litter barrels.
Collecting or harming any plant or animal in the park is prohibited and in violation of the law.
Security
The Park is patrolled from 9am to 4pm daily. Visits after these hours and camping can be arranged at the Forest Parks & Reserves Office at the Forestry Station.
Entry fee is required.
Admission: F$5.00 Adult; F$1.00 Child (under 14 yrs); Under 2 yrs - Free.
For Birdwatchers: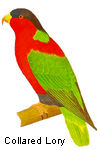 Colo-I-Suva Forest Park is a delight. Conveniently close to Suva by car or by bus, yet far from the noisy city streets, where the mynahs and feral pigeons are common. The early morning observer may well be the first to greet the unafraid scarlet robin and be scolded by the spotted fantail. The sounds of civilization fade as the bush deepens, and soon the twitter of the mixed flocks of golden whistlers, blue-crested broadbills, slaty flycatchers and spotted fantails take over, punctuated occasionally by the raucous screech of the sulphur-breasted musk parrot or the resounding "woof" of a barking pigeon.
Fiji white-eyes, Vanikoro broadbills, orange-breasted honeyeaters, lesser shrikebills, and other Small birds make their way noisily through the bush. Only the stealthily observer will catch the glimpse of the shy Fiji warbler in the undergrowth but all can hear their melodious duet. Golden doves too, are more often heard than seen as their abrupt "ÿap" is delivered with the skill of a professional ventriloquist.

Visitors from north America will find their American "robin" has a relative in the Fiji bush, the island thrush. There are several races of island thrush found in Fiji, all of which vary greatly in the plumage.
The Bird known as "robin" in Fiji is an unrelated insect eater whose bright red breast will surprise New Zealanders who are used to seeing only Grey or black Robins of the same family. The golden dove, sulphur-breasted musk parrot, orange - breasted honeyeaters, Fijian collared lory and blue-crested broadbill, all endemic to be found in the park, will impress Australians, accustomed to brightly coloured birds.

Some Commonly Seen Birds in Colo-I-Suva
Barking Pigeon
Blue-crested broadbill
Collared lory
Fiji goshawk
Fiji warbler
Fiji white-eye
Golden dove
Golden whistler
Island thrush
Lesser shrikebills
Orange - breasted honeyeaters
Scarlet robin
slaty flycatcher
Sulphur-breasted musk parrot
Vanikoro broadbill
Wattled honeyeaters
For scientific and Fijian names and more information on Fijian wildlife see:
Birds of Fiji, Clunie 1994, Fiji museum
Birds of Fiji, Tonga & Samoa, Watling 1992, Wellington
"Mai Veikau" - Tales of Fijian Wildlife, Watling &Rolls 1987, Suva
Birds of the Fiji Bush, Clunie & Morse 1984, Fiji Museum
How to Get There
You can take the Sawani bus, which leaves Suva City bus station.
Contact:
Department of Forestry
P.O Box 2218,
Government Buildings,
Suva
Colo-I-Suva Tel: (679) 3320211 / 3322311 / 3320323
Fax: (679) 3320 380