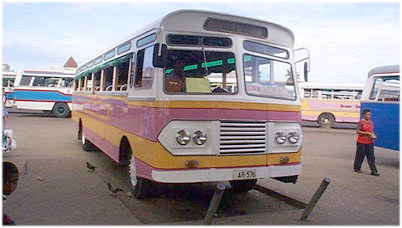 Buses and Public Transportation
There are numerous modern, air-conditioned coaches serving resorts and major towns. However, many visitors like the adventure of using the local open-windowed buses so they can take in the sights and sounds of the passing scene. Canvas flaps are unfurled in the event of a rain shower. Local buses also allow the visitor a chance to mingle with the people of Fiji, who by choice and tradition, treat strangers with gracious hospitality. Every town and village has a bus stop, since this is still the most common form of transportation in the islands. You can also hail any public bus from the road side merely by waving to the driver.
Carriers
Carriers are usually multi-passenger vans and small trucks which service remote villages and less-travelled areas. Rates are lower then those of taxis, in many areas matching bus fares, but this form of travel is only for those who don't mind roughing it.
Taxi
Most people in Fiji do not own a car, so taxis are plentiful and fares are reasonable. For instance, FJ$2 will take you just about anywhere in the average town or city. urban taxis have meters, with a flag at $0.50 and $1.00 after 10.00pm. But you will find smaller towns and rural area taxis use a fixed price system and almost everyone can tell you the price to local destination. For long trips, bargain with the driver. Often he'll reduce the fare if you allow him to pick up other passengers going the same way. Some taxis can also be hired by the day or half day for a fixed price, often the equivalent of a rental car.